Discover more from The Third Something
Practical creative advice and original art from Emmy-nominated filmmaker Adam Westbrook, delivered Sundays.
Over 1,000 subscribers
.52 End of Season Finale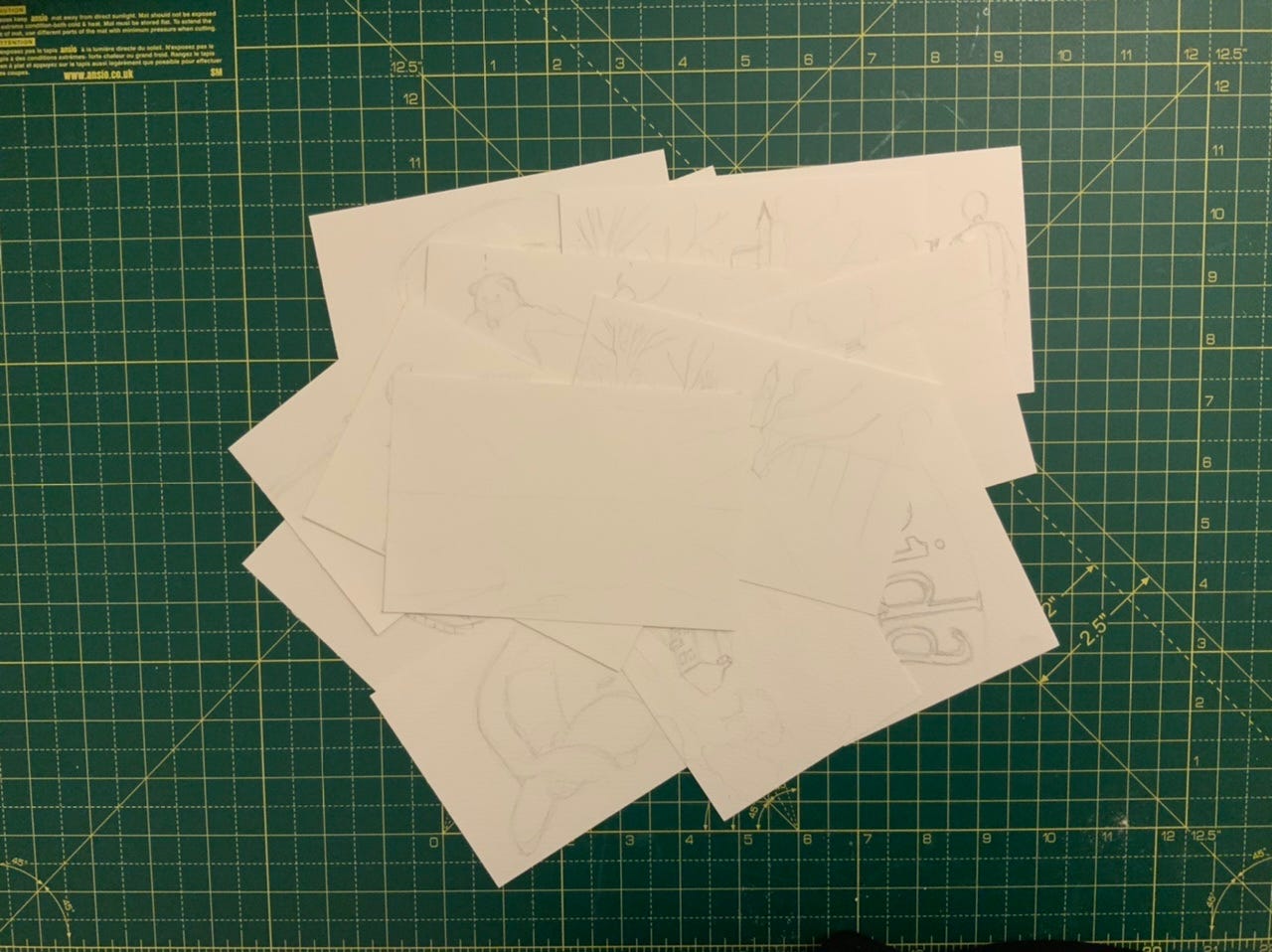 I have begun work on your postcards this week! I have so far sketched out about half of them.
After a bit of research into how ink actually works, I think the process will be in three parts: pencilling, inking (going over the pencil in an outline of India Ink) and painting. I say 'think' because I won't know until I finish a postcard whether it is the right way to do it!
My hope that I could complete this over the holidays was optimistic. Instead, this will be my ongoing project for January. My new target is to post all these out to you before the end of next month.
---
Kirby Ferguson is a filmmaker who has inspired me hugely over the past decade. You will almost certainly have seen at least one episode of his series Everything Is A Remix, which (I think) was one of the earliest examples of using online video to construct an articulate argument in words and pictures, (in other words: the modern video essay) while also starting a conversation.
On Christmas Eve, Kirby released the sixth instalment in a multi-year project called This Is Not A Conspiracy Theory. It's a well-researched and fascinating examination of how the stories we tell shape our view of the world. The latest chapter looks at emergence and how simple rules can create unpredictable outcomes.
The first episode of the series was released back in January 2014 and there is one more episode due in 2020 - meaning the whole project will have taken Kirby more than six years to complete.
On the internet this is a lifetime!
That long view, plus the dedication required to pull it off, makes Kirby one of the most interesting artists working in video in the last decade: he stands a world apart from the YouTubers churning out weekly videos.
This Is Not A Conspiracy Theory is behind a paywall but I highly recommend the investment.
---
Earlier in the month (#48) I asked you for your thoughts on what I should do with The Third Something next year. Many of you took the time to write and let me know how much you appreciated this little letter; I was very moved reading all of your emails.
I pitched four possible futures: 1) a continuation of what I've been doing 2) focusing the letter on a single, practical, niche 3) opening up a paid subscription level 4) making the letter a record of my creative output each week.
The responses were overwhelmingly in favour of Option 4, with a little bit of Option 2 thrown in - or as Doug put it: "number 4 with a splash of number 2 (no pun intended)".
I am very happy about this - it is exactly what I was hoping you'd say! Option 4 excites me much more than the others because it is the only option that I cannot foresee in advance what it is going to look like. It is a path unexplored, rich in unknown potential!
So on January 5th 2020, Season 2 of The Third Something will begin.
This letter, though, wraps up the first year. Thank you so much for being part of this project, for your kind and thoughtful responses. In an otherwise bumpy year, this letter has been a hidden cabin in the woods, a calm, secluded oasis, a gentle wellspring of inspiration and comfort.
I wish you the very best for 2020 and beyond.
Until next Sunday,