Discover more from The Third Something
Practical creative advice and original art from Emmy-nominated filmmaker Adam Westbrook, delivered Sundays.
Over 1,000 subscribers
#53 Fill Sketchbooks!
Hello and welcome to a new year of The Third Something.
This feels like an appropriate time to remind you of what this is! The Third Something is a letter by me, Adam Westbrook, dispatched every Sunday.
You're receiving this because you signed up here.
If you'd rather not hear from me again then click on the unsubscribe button at the bottom of this letter. (I don't receive notifications of unsubscribes so you won't hurt my feelings.)
If, on the other hand, you really like The Third Something, here's a PayPal page where you are very welcome to show your appreciation any time.
Either way, it's exciting to be writing to you for another year!
---
If I have one solid goal for 2020 it is this: fill sketchbooks.
It's a thread I can see slowly emerge into consciousness through last year's letters, beginning with #17, #22, and #32 building through #43, #45 and #46.
Pull the thread and it tells a story about the importance of daily practice, doing things for pleasure as opposed to outcome and building systems that support this.
I realised sometime in November that if I do want to find my creative groove again I need to be constantly filling pages, accumulating a pile of used sketchbooks and notebooks.
The sketchbook is a sort of creative engine: with every page I fill the pistons make another revolution; like any engine, it works best when used often; it is hungry for fuel, meaning I have to be better at seeing and recording the world around me; the art, whatever that is, will be the by-product, the exhaust fumes of this creative combustion.
OK, enough metaphors.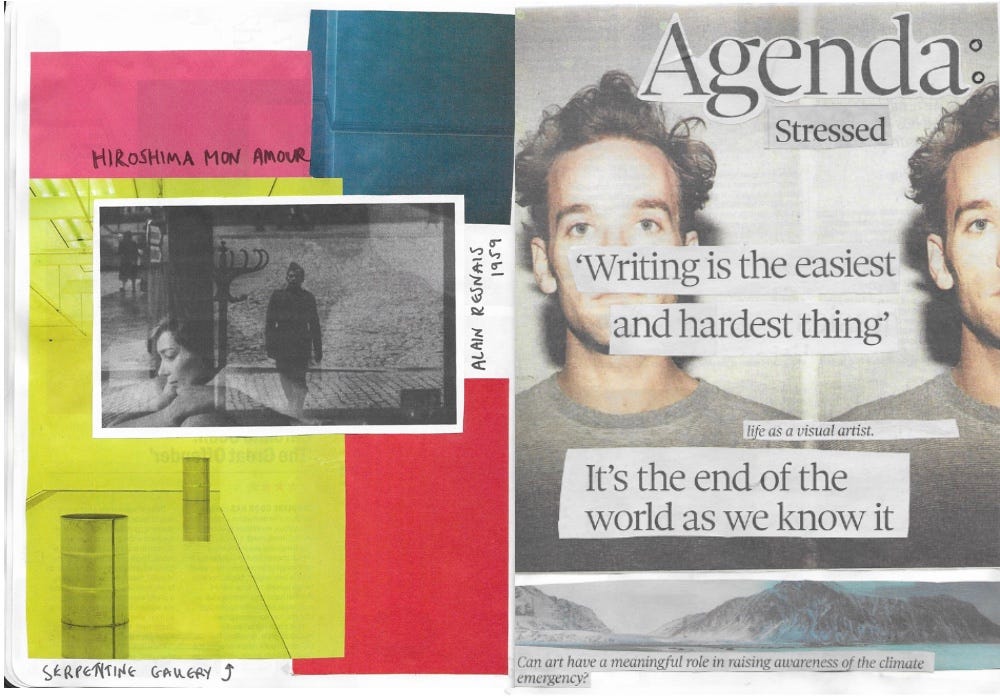 Starting the engine from cold, I have been filling my sketchbook with collage.
I have started my days going through newspapers, magazines and any other printed material I can get ahold of, and clipping out anything that catches my eye.
Then I have moved it around on the page until it starts to looks pleasing to me, before gluing it all down - doing my best not to think about it too hard.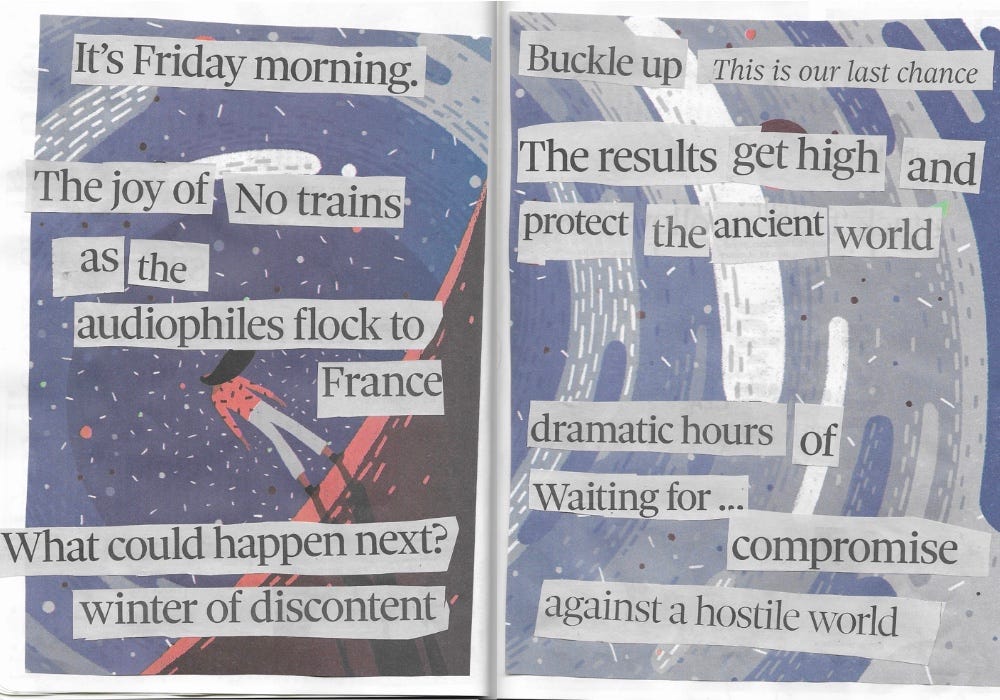 Collage is the quickest way to fill sketchbook pages and so it's a powerful way to build momentum when you're just beginning, or you need to get unstuck. 
Firstly, it is scrappy - you can't get too precious about the page. The job is to make a mess!
Secondly, it requires very little intellectual engagement, so it's perfect for times when you have nothing to say, when your thoughts and dreams are foggy, you are tired, hungover or sick - or life is generally trying hard to stop you feeling creative.
Thirdly, in place of the intellectual, it is an excellent way to connect with the emotional: moving paper around until it 'feels' right - without having to justify why.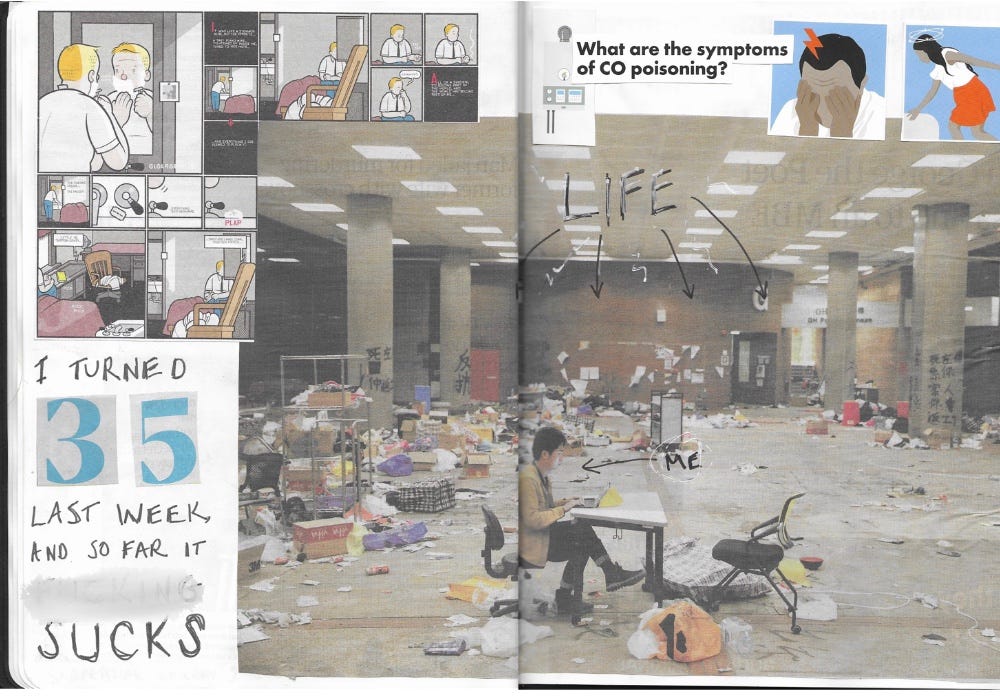 I'm very late to understand this, but the day-to-day job of the artist is not 'making art', it is filling sketchbooks. "Filling my sketchbook" is a perfectly legitimate answer to the question "what are you working on right now?"
"Fill sketchbooks" is about quantity over quality.
I will measure my success at the end of the year, not in whether I've made anything good, but in how big the pile of used sketchbooks is.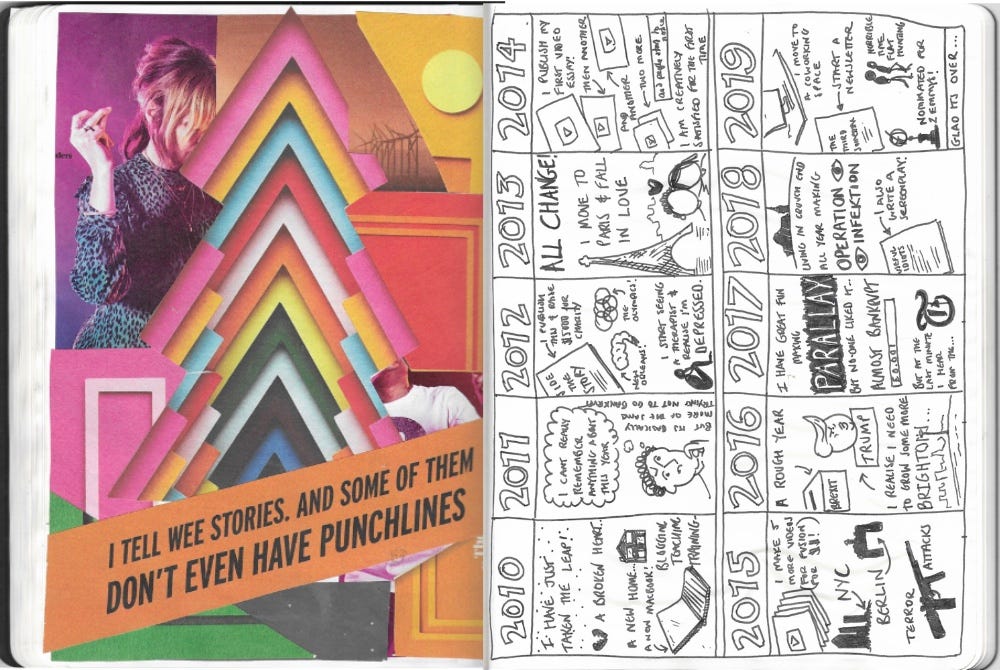 I am extremely curious to know if any Third Something readers are avid sketchbook fillers. If so, do you have a system or process that works for you?
Hit reply and I'll share your wisdom!
Until next Sunday,